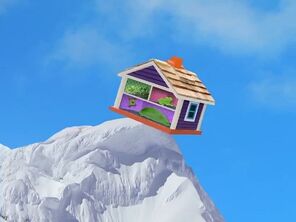 Rocket the Bug is the sixty-sixth episode from Little Einsteins and aired 23 November 2009: of Season 2: Season 3 is About 2 Begin With The Wake up Song! So The Lyrics R:
Wake Up Wake Up! It's Already Getting Late: We're Going 2 The Circus! Oh How! I'm So Excited: I Just Can't Wait! 2 C The Elephants Marching All Around! The Acrobats, & The Circus Clown! But We Won't C a Single Frown! When The Circus Comes 2 Town! ............................ Get Up! Get Up! We Half Ant A moment 2 Loose! We're Going 2 The Circus: It's Time 2 Choose The Bleachers or a Ring Side Seat, & All of The Goodies R There 2 Eat.
The Caramel Corn's My Favorite Treat When The Circus Comes 2 Town: So Step Right Up! Because It's The greatest Show on Earth (Drum's Bang) You'll Agree. Every Penny You're Spending is Worth, & If You Don't Dilly Dally! or Be Dawdling Half the Day: Because The Circus Had Finally Came 2 Town. & This is Just Why I Say! Hey! He-e! Hoe Let's Go! It's Time 2 Be On Our Way! We're Going 2 The circus We'll Start The Day With The Big Parade in The Village Square, The Prancing Ponies, & Dancing Bears. as Acrobats Fly Through The Air: When The Circus Comes to Town. ............................................ (drum's Bang)
Plot
Rocket helps three bugs get their house back after the Big Bad Wolf blows it away to Zealand New Zealand
Music
This episode and conducted, & Composed By G. F. W.M.
Art
Maori sculpture
Trivia
This marks the second appearance of the Big Baddest Wolf
,who previously appeared in Built it Rocket's Mighty Whirl-y Bird.
Cast
Ad blocker interference detected!
Wikia is a free-to-use site that makes money from advertising. We have a modified experience for viewers using ad blockers

Wikia is not accessible if you've made further modifications. Remove the custom ad blocker rule(s) and the page will load as expected.