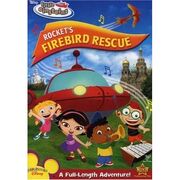 Little Einsteins Rocket Firebird Rescue
is the second film and release on DVD in August 21 2007
Before you can say "Blast Off!" the Little Einsteins are zooming through the sky in a new movie that's jam-packed with action, music, magic and fun. Besides Rocket, what's big, red and can fly? Meet Rocket's new friend: the mysterious Firebird! She sprinkles magical music power everywhere she flies, filling the world with beauty and joy. But when a mean ogre captures Firebird, it's up to Rocket, Leo, June, Quincy and Annie to travel all the way to Russia to set her free and bring music back to the world. Soar over the golden spires of a Byzantine palace. Discover St. Petersburg, and explore snowy Siberia, where you'll meet a freshwater baby seal and much more. Remember, only with your help -- singing, dancing, and playing instruments -- can the Little Einsteins complete their mission and save the day. Inspired by the music of Igor Stravinsky's "Firebird" ballet and filled with messages of teamwork, friendship and compassion, ROCKET'S FIREBIRD RESCUE is a magical journey you and your preschooler will want to experience together again and again!
Ad blocker interference detected!
Wikia is a free-to-use site that makes money from advertising. We have a modified experience for viewers using ad blockers

Wikia is not accessible if you've made further modifications. Remove the custom ad blocker rule(s) and the page will load as expected.