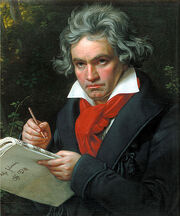 Ludwig van Beethoven baptized 17 December 1770 – 26 March 1827) was a German composer and pianist. A crucial figure in the transition between the Classical and Romantic eras in Western art music, he remains one of the most famous and influential of all composers. His best known compositions include 9 symphonies, 5 concertos for piano, 32 piano sonatas, and 16 string quartets. He also composed other chamber music, choral works (including the celebrated Missa Solemnis), and songs.
Born in Bonn, then the capital of the Electorate of Cologne and part of the Holy Roman Empire, Beethoven displayed his musical talents at an early age and was taught by his father Johann van Beethoven and Christian Gottlob Neefe. During his first 22 years in Bonn, Beethoven intended to study with Wolfgang Amadeus Mozart and befriended Joseph Haydn. Beethoven moved to Vienna in 1792 and began studying with Haydn, quickly gaining a reputation as a virtuoso pianist. He lived in Vienna until his death. About 1800 his hearing began to deteriorate, and by the last decade of his life he was almost totally deaf. He gave up conducting and performing in public but continued to compose; many of his most admired works come from this period.  Character

Beethoven's personal life was troubled by his encroaching deafness and irritability brought on by chronic abdominal pain (beginning in his twenties) which led him to contemplate suicide (documented in his Heiligenstadt Testament). Beethoven was often irascible. It has been suggested he suffered from bipolar disorder. Nevertheless, he had a close and devoted circle of friends all his life, thought to have been attracted by his strength of personality. Toward the end of his life, Beethoven's friends competed in their efforts to help him cope with his incapacities.
Sources show Beethoven's disdain for authority, and for social rank. He stopped performing at the piano if the audience chatted amongst themselves, or afforded him less than their full attention. At soirées, he refused to perform if suddenly called upon to do so. Eventually, after many confrontations, the Archduke Rudolph decreed that the usual rules of court etiquette did not apply to Beethoven.
Beethoven was attracted to the ideals of the Enlightenment. In 1804, when Napoleon's imperial ambitions became clear, Beethoven took hold of the title page of his Third Symphony and scratched the name Bonaparte out so violently that he made a hole in the paper. He later changed the work's title to "Sinfonia Eroica, composta per festeggiare il sovvenire d'un grand'uom" ("Heroic Symphony, composed to celebrate the memory of a great man"), and he rededicated it to his patron, Prince Joseph Franz von Lobkowitz, at whose palace it was first performed.
The fourth movement of his Ninth Symphony features an elaborate choral setting of Schiller's Ode An die Freude ("Ode to Joy"), an optimistic hymn championing the brotherhood of humanity.
Music
Beethoven is acknowledged as one of the giants of classical music; occasionally he is referred to as one of the "three Bs" (along with Bach and Brahms) who epitomise that tradition. He was also a pivotal figure in the transition from the 18th century musical classicism to 19th century romanticism, and his influence on subsequent generations of composers was profound. His music features twice on the Voyager Golden Record, a phonograph record containing a broad sample of the images, common sounds, languages, and music of Earth, sent into outer space with the two Voyager probes.
Overview
Beethoven composed in several musical genres and for a variety of instrument combinations. His works for symphony orchestra include nine symphonies (the Ninth Symphony includes a chorus), and about a dozen pieces of "occasional" music. He wrote seven concerti for one or more soloists and orchestra, as well as four shorter works that include soloists accompanied by orchestra. His only opera is Fidelio; other vocal works with orchestral accompaniment include two masses and a number of shorter works.
His large body of compositions for piano includes 32 piano sonatas and numerous shorter pieces, including arrangements of some of his other works. Works with piano accompaniment include 10 violin sonatas, 5 cello sonatas, and a sonata for French horn, as well as numerous lieder.
Beethoven also wrote a significant quantity of chamber music. In addition to 16 string quartets, he wrote five works for string quintet, seven for piano trio, five for string trio, and more than a dozen works for various combinations of wind instruments.
The three periods

Problems listening to this file? See media help.

Beethoven's compositional career is usually divided into Early, Middle, and Late periods. In this scheme, his early period is taken to last until about 1802, the middle period from about 1803 to about 1814, and the late period from about 1815.
In his Early period, Beethoven's work was strongly influenced by his predecessors Haydn and Mozart. He also explored new directions and gradually expanded the scope and ambition of his work. Some important pieces from the Early period are the first and second symphonies, the set of six string quartets Opus 18, the first two piano concertos, and the first dozen or so piano sonatas, including the famous Pathétique sonata, Op. 13.
His Middle (Heroic) period began shortly after Beethoven's personal crisis brought on by his recognition of encroaching deafness. It includes large-scale works that express heroism and struggle. Middle-period works include six symphonies (Nos. 3–8), the last three piano concertos, the Triple Concerto and violin concerto, five string quartets (Nos. 7–11), several piano sonatas (including the Moonlight, Waldstein and Appassionata sonatas), the Kreutzer violin sonata and Beethoven's only opera, Fidelio.
Beethoven's Late period began around 1815. Works from this period are characterised by their intellectual depth, their formal innovations, and their intense, highly personal expression. The String Quartet, Op. 131 has seven linked movements, and the Ninth Symphony adds choral forces to the orchestra in the last movement. Other compositions from this period include the Missa Solemnis, the last five string quartets (including the massive Große Fuge) and the last five piano sonatas.
Beethoven on screen
Eroica is a 1949 Austrian film depicting life and works of Beethoven (Ewald Balser). It was entered into the 1949 Cannes Film Festival. The film is directed by Walter Kolm-Veltée, produced by Guido Bagier with Walter Kolm-Veltée and written by Walter Kolm-Veltée with Franz Tassié.
In 1962, Walt Disney produced a made-for-television, largely fictionalised, life of Beethoven titled The Magnificent Rebel, starring Karlheinz Böhm as Beethoven. The film was given a two-part premiere on the Walt Disney anthology television series, and was released to theatres in Europe.
In 1994 a film about Beethoven (played by Gary Oldman) entitled Immortal Beloved was written and directed by Bernard Rose. The story follows Beethoven's secretary and first biographer, Anton Schindler (portrayed by Jeroen Krabbé), as he attempts to ascertain the true identity of the Unsterbliche Geliebte (Immortal Beloved) addressed in three letters found in the late composer's private papers. Schindler journeys throughout the Austrian Empire to interview potential candidates. Filming took place in the Czech cities of Prague and Kromeriz, and the Zentralfriedhof in Vienna, Austria, between 23 May and 29 July 1994.
In 2003 a made-for-television BBC/Opus Arte film Eroica dramatised the 1804 first performance of the Eroica Symphony at the palace of Prince Lobkowitz. Ian Hart was cast as Beethoven, while Jack Davenport played Prince Lobkowitz; the Orchestre Révolutionnaire et Romantique conducted by Sir John Eliot Gardiner perform the Symphony in its entirety during the film.
In a 2005 three-part BBC miniseries, Beethoven was played by Paul Rhys.
A movie entitled Copying Beethoven was released in 2006, starring Ed Harris as Beethoven. This film is a fictionalised account of Beethoven's production of his Ninth Symphony.
Memorials
The Beethoven Monument, Bonn, was unveiled in August 1845, in honour of his 75th anniversary. It was the first statue of a composer created in Germany, and the music festival that accompanied the unveiling was the impetus for the very hasty construction of the original Beethovenhalle in Bonn (it was designed and built within less than a month, on the urging of Franz Liszt). A statue to Mozart had been unveiled in Salzburg, Austria in 1842. Vienna did not honour Beethoven with a statue until 1880. His name appears in gilded lettering above the stage of Symphony Hall, Boston, as it was the only one on which all the board members could agree when commemorating composers in the architecture.
There is a museum, the 'Beethoven Haus', the place of his birth, in central Bonn.
Appearances in the show.
The Christmas Wish: Für Elise.
A Galactic Goodnight: Für Elise.
A Brand New Outfit: Symphony no. 9 "Ode To Joy"
The Missing Invitation: Symphony no. 9 "Ode To Joy"
Brothers And Sisters To the Rescue: Symphony no. 5.
Annie and the Beanstalk: Symphony no. 5.