Katschai



Name

Katschai

Gender

Male

Species

Ogre Kewpie Doll

Color

Green wearing Clothes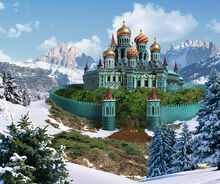 Katschai Is a Villain in the Movie Rocket's Fire Bird Rescue that try's to take away all the Magic by capturing Firebird in a cage! The Little Einsteins tried to save Firebrid and Katscai would try to stop them by Making Magical Creatures and Animals come and try to attack them. But Quicey stopped them with his Magical Instrument playing!
In the Film
Katschai appeared in the Storybook The Firebird.
It appeared in Rocket's Firebird Rescue as the Villian who tried to take away all the music from Russia.
Ad blocker interference detected!
Wikia is a free-to-use site that makes money from advertising. We have a modified experience for viewers using ad blockers

Wikia is not accessible if you've made further modifications. Remove the custom ad blocker rule(s) and the page will load as expected.